Top Home Trend: How to Introduce Terrazzo into your Home
Terrazzo: The trend that isn't going away.
Meet the minimalist pattern we are mad about this spring. With its subtle pastel tones and infinite variations, Terrazzo is the perfect way to introduce character into your home. Last year, we wrote about how Terrazzo was starting to appear in different interiors, in 2018 we are seeing this versatile pattern and material everywhere. Read on to find out how you can use Terrazzo to give your space an artisanal, contemporary feel.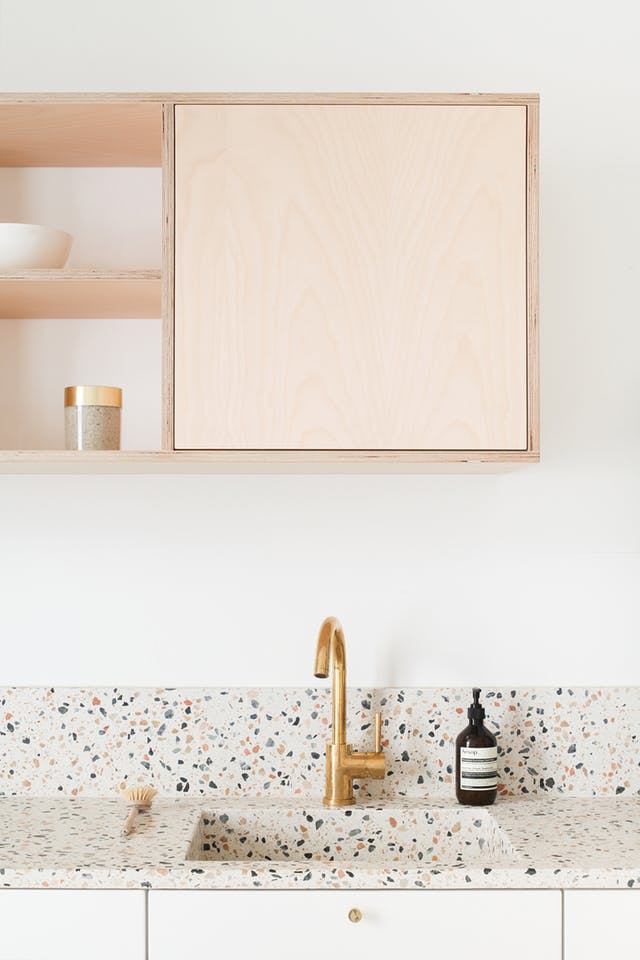 Terrazzo originated in 16th Century Italy and is a composite material of marble chippings set into cement. This makes it perfect for kitchens; take a look at this beautiful integral sink for example. By using Terrazzo rather than the traditional marble or quartz they have given this kitchen a bright, unique look. If you don't feel bold enough to include it in your worktops, try in an accent feature or a more subdued version for your flooring.
Bathroom Update
Perhaps Terrazzo countertops are a little too busy for your kitchen, if so take a look at how these bathrooms use the material to add a fun aspect to an otherwise ordinary space. Think, Terrazzo tiled showers, basins, walls or floors. Look at your space and imagine what could be updated with this chic pattern.
What to Buy: Terrazzo
If you aren't able to feature Terrazzo in your fixtures but still love this trend then take a look at our updated 2018 buying guide with the best picks for how to feature Terrazzo accessories in your home.
Left to Right
Top Row: John Lewis Lamp, £25, John Lewis Lampshade, from £14.40, Zakkia Plant Pot, £40
Middle Row: Ross & Brown Pendant Light, £65, Zakkia Tray, £54, Aquanova Soap Dispenser, £32.40
Bottom Row: Ferm Living Tin Boxes, £30 for three, Nubie Rug, £239, Dassie Artisan Jug, from £27
You may also be interested in...